PIERCING STUDIO
Book your next piercing appointment here
Before/after
Update your earparty with a new piercing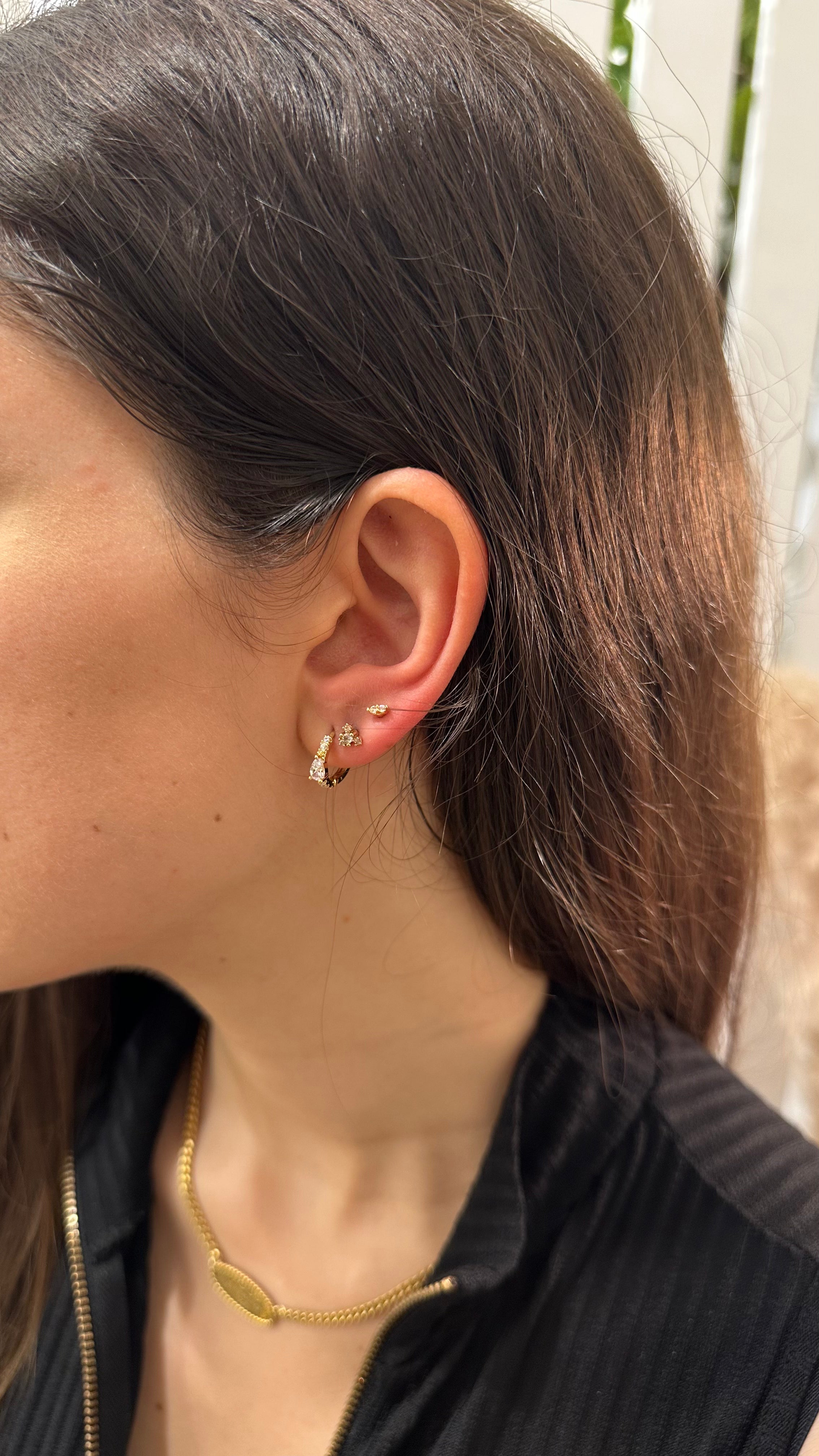 Need help?
Frequently Asked Questions
PIERCING GUIDELINES
Yes! In our Chiado store, our team of experienced piercers is there to provide a humanized piercing service, meaning everything about the process will be fully explained and they will provide comfort and reassurance in every step of the way. From aftercare to any piercing FAQs you might have, we're here to help.

As our piercing service is quite popular, we would recommend booking your appointment previous to going to the store. We also offer walk-ins and, even if you do need to wait, a confortable pink sofa and free coffee will be at your disposition while you do so.
We charge a flat rate value of 30€ per lobe piercing service and 40€ per cartilage piercing service. This includes the jewellery piece used for piercing but also the preparation of the piercing station, all the disposable materials and also the time it takes for a deep clean before & after your appointment.
For safety reasons, mainly related to the healing process and timing, you are able to get up to 3 piercings in one appointment.
The aftercare of a piercing is definitely more as important than the piercing itself. The healing time will vary depending upon your age, health status, general diet, lifestyle and care of the piercing. If your immune system is compromised or your diet is poor, then the healing process may be a little prolonged.
Clean your piercing with a saline solution two to three times a day until it is fully healed. You should do this for a minimum of 1-2 months for lobes and a minimum or 6 month for cartilage. Feel free to do it whenever your piercing is irritated.

Don't touch your piercing

Avoid touching your piercing at all cost. Rotating your piercing is a myth and we strongly advise against it. If you do need to the piercing, thoroughly wash your hands before, otherwise you could cause infection.

Don't change your piercing too soon

Lobe piercings can be changed after a minimum of 6 weeks and cartilage can be changed after a minimum of 6 months.

Avoid sleeping on your piercing

We know this might be difficult but sleeping on top of the pierced ear will cause irritation, inflammation and will certainly prolong the healing process. Use a travel pillow to sleep on your side if you really need to.
During the first week, we can experience some bleeding, localised swelling, tenderness & bruising.
After that inicial period, we will also experience itching and secretion of a whitish fluid that will form some crusts around the jewellery. Cleaning it regularly will avoid prolonged healing.
Aftercare is entirely your responsability. The above advice will ensure safe and proper healing of your new piercing.

In case of infection or if you have any concerns, please book back in to see our piercers for further advice. Do not remove piercing until medically advised.

Contact our customer service if you have any questions about caring for your piercing.
Check some piercing options for after your new piercing heals